About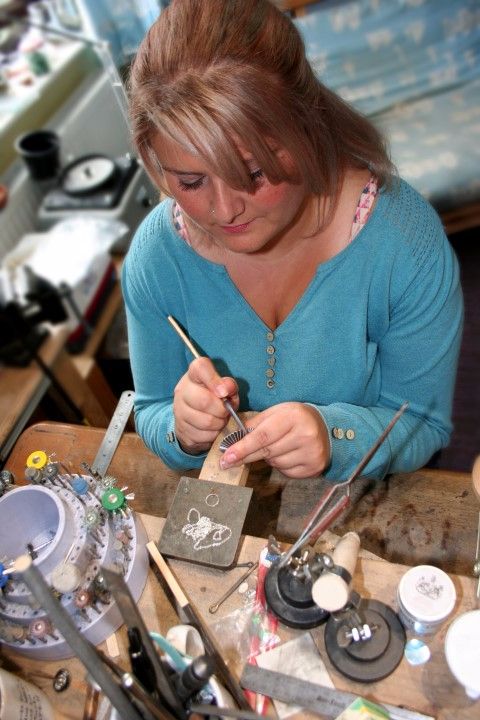 Caroline Brogden is the jewellery designer and maker behind SeaBreeze Designs.
She creates elegant, contemporary handmade jewellery in sterling silver and gold.
She takes her inspiration from the coast and the surrounding environment, but enjoys adding a splash of whimsy, using traditional silversmithing techniques to create texture and form.
Little by little as her simple but beautifully crafted designs became increasingly sought after, Caroline has been able to build herself a small but cosy studio space in her home.
She is currently showcasing two key ranges which are continually evolving and developing. The Coastal Collection includes her range of beautiful cast shells and starfish.
Whilst the Natural Forms collection looks at forms and shapes created through forging the metal. As the metal is forged it follows similar rules found in nature, such as the Golden Spiral.
Caroline uses a number of different techniques to create the pieces including fold-forming, saw-piercing and stone setting.
She is a self-taught designer-maker and has been showcasing her work at a number of exhibitions and galleries since 2013. In 2016 she was selected as an emerging artist by the Design Factory.


Coast Magazine - November 2016
Arts and Crafts Special - The Scallop Cuff in Sterling Silver was selected for their curated 'Jewels of the Sea' article.

http://www.barnsley-chronicle.co.uk/news/article/9246/jewellery-designer-to-showcase-talents
Jewellery designer to showcase talents BY GAIL ROBINSON, TOWN REPORTER TUESDAY 18TH NOVEMBER 2014A
Dodworth-based jewellery designer is one of the exhibitors who will be showcasing her talents at this year's Country Living magazine Christmas fair in North Yorkshire. Caroline Brogden, founder of SeaBreeze Designs, creates intricately detailed pieces taking inspiration from the coast. Caroline, who also exhibited at the fair last year, said: "I really enjoyed exhibiting at the Country Living Christmas Fair last year and I'm excited to be returning to Harrogate again. "It was a brilliant experience to be surrounded by fellow crafters and other exhibitors, it's truly a great chance for visitors to get in the festive spirit while enjoying locally made or hand-crafted products."https://bdaily.co.uk/entrepreneurship/30-10-2014/increase-of-42-in-yorkshire-businesses-at-christmas-fair-in-harrogate/