About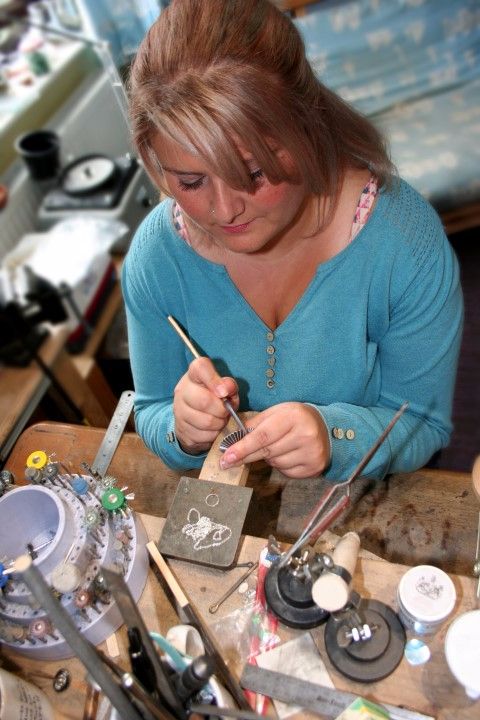 I have been working with precious metals for over 5 years now and love that there is still so much to learn.
I initially started by collecting and casting shells and setting unusual pieces of sea glass. I still continue this side of my work today as I adore strolling on the beach searching for pieces.
I am currently developing my understanding of the different ways in which you can manipulate metal and this is reflected in my newer body of work. I have started started to look at the contours and forms found in nature and ways to mimic this in metal. By combining forging, fold-forming and raising I have started to develop a collection including the Ammonites and Frond pieces.
I have then developed these individual designs further by adding gold accents and semi-precious stones. These are used to highlight and emphasise the multi-dimensional aspects of the work.
I currently exhibit my work in a number of shops and galleries as well as selected shows throughout the year. You can find the full list on the events page.

Coast Magazine - November 2016
Arts and Crafts Special - The Scallop Cuff in Sterling Silver was selected for their curated 'Jewels of the Sea' article.

http://www.barnsley-chronicle.co.uk/news/article/9246/jewellery-designer-to-showcase-talents
Jewellery designer to showcase talents BY GAIL ROBINSON, TOWN REPORTER TUESDAY 18TH NOVEMBER 2014A
Dodworth-based jewellery designer is one of the exhibitors who will be showcasing her talents at this year's Country Living magazine Christmas fair in North Yorkshire. Caroline Brogden, founder of SeaBreeze Designs (now Caroline Brogden Contemporary Jewellery , creates intricately detailed pieces taking inspiration from the coast. Caroline, who also exhibited at the fair last year, said: "I really enjoyed exhibiting at the Country Living Christmas Fair last year and I'm excited to be returning to Harrogate again. "It was a brilliant experience to be surrounded by fellow crafters and other exhibitors, it's truly a great chance for visitors to get in the festive spirit while enjoying locally made or hand-crafted products."https://bdaily.co.uk/entrepreneurship/30-10-2014/increase-of-42-in-yorkshire-businesses-at-christmas-fair-in-harrogate/